The Great Ham
GC SGC Mtkittery Warren Peace of Coons´kin
When Warren was around, everybody knew it. His presence literally commanded attention. He'd sashay. He'd swagger. He had a cool sense of self. He always looked like he was out to make an impression—- and he certainly did just that.
With a coat that could keep ten cats warm; long flowing britches, belly fur that draped to the ground, a mane that was the envy of the 42nd St. Library lions, a seriously square, strong-chinned jaw, a long, long tail over 5 inches wide and his perfect mackerel striped pattern, on a lovely warm brown background, his 20 pounds looked more like 30. When he «made big hands» his paws spread out far enough to easily cover the whole palm of my hand. He was tall and regal, very long, thick and strong. He was a very great big cat.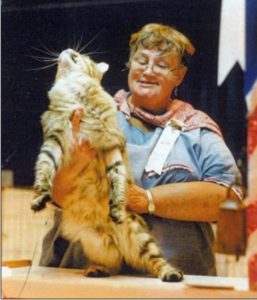 But what made people «ooo» and «ah,» once the initial shock of seeing such a big beautiful cat released them, was his demeanor. Until his last show-in which he told me in no un certain terms that he was finished with shows forever he loved the spectacle. Despite all the noise and congestion, he was so so relaxed, that he would lay on his back on the grooming table for me to comb his long fur wherever I pleased, no matter how many people were crowded around watching.
The public absolutely adored him. He was quite a showman, and in front of a crowd, up on that judging bench, he was in his glory strutting his stuff, hamming it up and show ing it all off.
The same was true when company came to the house. The more people the better. He would collect compliments and reward his admirers by jumping on their laps. Hide from company? Whatever for?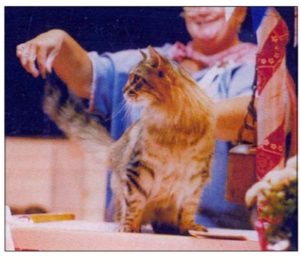 Neither would he hide from dogs. From the moment he entered my home, Warren was fast friends with Silvester, my 105 pound blue merle collie. In his later years, long after Silvester had passed away, Warren spent most of his time with his other best friend, Rontu, a Chinook dog. For a cat, Warren was remarkably accepting of individuals from non-feline species.
Warren was bred by Barbara (Bunty) Washburn of Mt. Kittery Maine Coons. He was 2nd pick of the litter (Henry of Advent Hill was first) but I couldn't have been more thrilled to get him. What I saw in him was everything I wanted: an extremely typey Maine, more serious/big cat looking than sweet, but yet an overall friendly looking cat.
He had everything I ever dreamed of in a most perfect. His pedigree included many cats I loved. And to top it all off, he was a fantastic buddy, a lover, a comedian, an important part of my life. He came from a repeat breeding of GC/ GRC MtKittery Penobscot and SGC Kiskata Quoddy of MtKittery, who produced between them great kittens.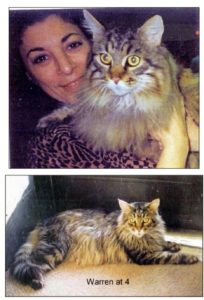 Warren never disap pointed me. Despite his size, at every stage he was always chiseled, always a visual pic ture of the standard. He grew to be exactly what I'd hoped for, a gorgeous beloved pet, a great show cat who was fun to show and travel with and a popular, enthusiastic stud cat. He kept his conformity to the standard of the breed his whole life long and passed on his good looks to all his progeny. I humbly submit that he has made an important contri bution to several different Maine Coon breed ing lines across the country.
With my beautiful Goldie, (SGC, GC Cow town's Golden Nugget of Coons'kin), he sired SGC, Gr. Ch. Coons'kin's Tall man, who earned several Best of Breed awards in his own brilliant but tragically short show career. Warren and Goldie made absolutely gor geous kittens together. Warren produced a great many beautiful Maine Coon cats, including many very successful show cats and countless beloved pets, whose owners still keep in touch with me and send me pictures and holiday cards with notes about their cats' latest shenanigans.
When I remember Warren, I first remem ber how he felt when I held him. He was big, warm and heavy, soft but strong. His bones were thick and substantial. And when you held him, he never asked to be put down. He was a great snuggle-er. But more than any thing, I remember his personality. He was brave, expressive, demanding, ever-present, patient, affectionate, intelligent, sometimes wild and crazy and always so funny. He was a clown. He was a great friend and compan ion.
I remember his lying in front of the wood stove with Silvester, where they both slept away hours and hours. He played with the snow, pretending to be a great hunter in his outdoor run under the maple tree with a lake view. And I can still see him tearing through the house, up and down the stairs, streaking over furniture, leaping through the air to catch imaginary prey.
He never complained. He could take all the love you could give him. You could hold him like a baby and kiss him like you eat corn on the cob. Grooming for shows took quite a long time. With such a dense coat, the bath ing and drying could take hours. bath, wrapped up in the towels-well…you can't describe how cute a cat can look. He put up with so much and he did it with dignityand patience.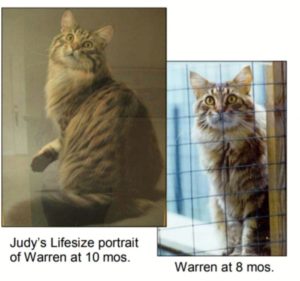 I believe he understood a lot of English and he was always co operative because he understood me.
Warren passed away in 1997. I still miss him very much. A very large, beautiful por trait of him taken by Tetsu Yamazaki at the Madison Square show when Warren was only 10 months old hangs in a prominent place in my home. The photo is life size and so exquisitely sharp you can see each indi vidual hair. I stand in front of that picture and wish I could reach right through the glass reach up to heaven and hold him again.

Judy Friedman San Diego, CA.
The Scratch Sheet
Spring 2005